Philippine President Duterte Says Chinese Casino Loan Sharks and Kidnappers Will Be Caught 'Dead or Alive',Preferably Dead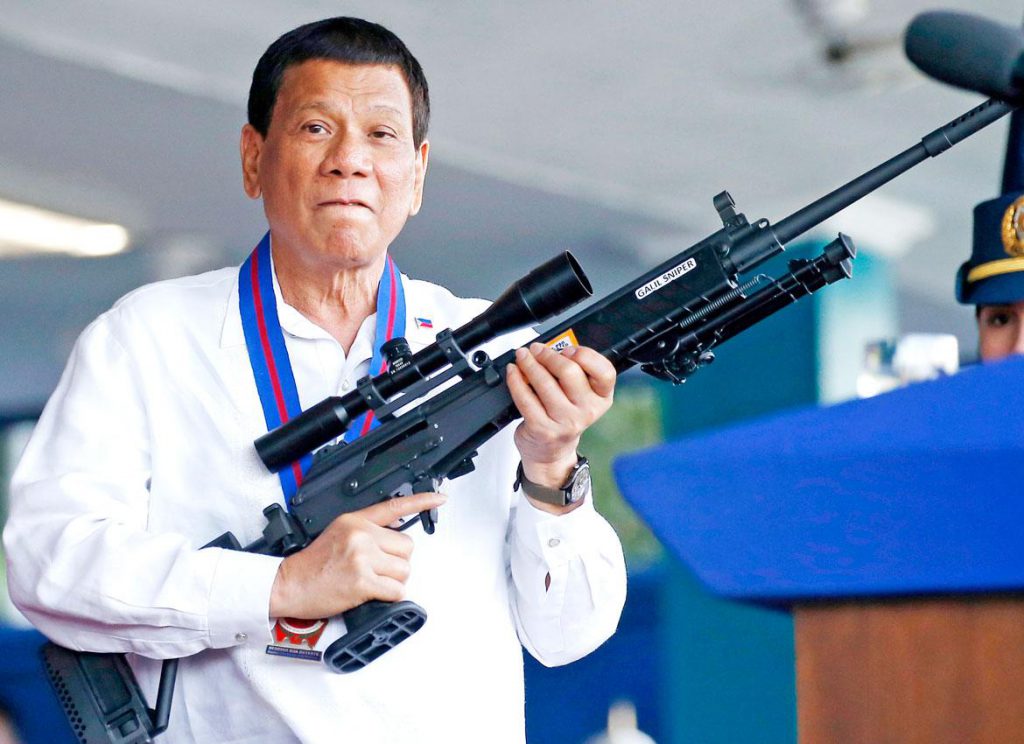 Philippine President Rodrigo Duterte told a roomful of Chinese investors this week that casino moneylenders who resort to kidnapping gamblers who cannot pay up will be "caught dead or alive" —  and preferably dead.

His words suggest that the strong-arm leader is ready to mete out the kind of justice on loan sharks normally reserved for the country's drug dealers and addicts.

In August 2017, human rights groups claimed that more than 13,000 people had become victims of Duterte-backed extrajudicial killings, which have targeted dealers and drug users since the president's accession to power in June 2016.

Explosion in Kidnappings
The Philippine casino sector is booming, thanks largely to improved diplomatic relations with China and Duterte's easing of visa restrictions for Chinese visitors. But the upturn has brought with it junkets, loan sharks, and an explosion in kidnappings.

Chinese tourists are vulnerable to moneylenders because of the strict restrictions on the movement of cash from mainland China. And if they can't repay the money borrowed, they can be abducted and tortured to extort relatives to wire money. Occasionally, they're killed.
The anti-crime watchdog, Movement for Restoration of Peace and Order (MRPO), said in March there had been 23 kidnapping victims since the beginning of 2018 — an average of two per month.

"There are foreigners who come here to play their trade, lending money, and if the debtor cannot pay, they kidnap and sometimes they ask for a ransom," said Duterte. "And even with the delivery of the money … they just go ahead and kill the victim.

"You know, we're good friends with everybody, but I will not hesitate, even to tell your ambassador 'I killed your idiot citizen because he was f****ng… in my country… To me, you are just another carcass," Duterte warned.

The president's choice of platform to instigate his attack on kidnappers — a company launch — is a strange one. But it's significant that the company, Golden Topper Group, is Chinese, which meant the room was filled with Chinese nationals investing in the Philippines. The presence of the South China Morning Post was also likely a motivation for the tirade.

Chinese citizens are both victims and perpetrators of the kidnappings.

'I Will Kill You'
Duterte warned investors in the venture that the Golden Copper Group's properties should "never serve as a haven for undocumented foreign workers or for the manufacture of and trafficking of illegal drugs."

"If you are a drug lord, or if I catch you importing or manufacturing drugs and you destroy my country in the process, I will kill you," he added, returning to one of his favorite themes.

It's estimated that more than 100,000 Chinese have come to live and work in the Philippines since Duterte opted to license and regulate the online gambling industry, which is prohibited from taking bets from Filipinos, but targets Chinese players, to the displeasure of Beijing.

"You can come, you can ply your trade, you can commit your crimes, but if I catch up with you, it is dead or alive. Preferably dead. Alive, I have to feed you," he told the investors, who, by now, probably regretted inviting him.

"There's a rice crisis in this country," he added. "One mouth less would be good."

No tags for this post.