Bellagio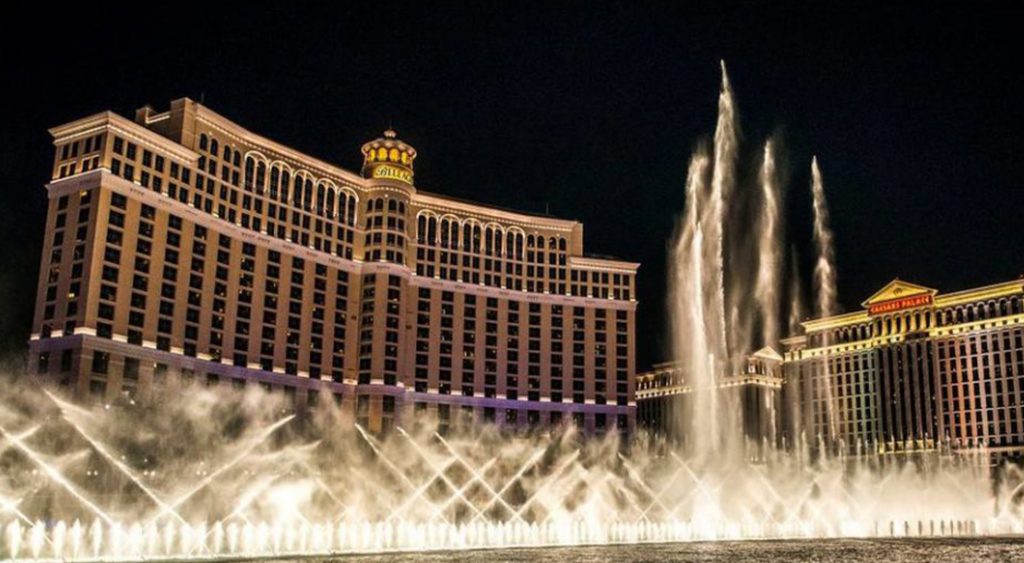 Bellagio (resort)
Bellagio is a resort, luxury hotel and casino on the Las Vegas Strip in Paradise, Nevada. It is owned and operated by MGM Resorts International and was built on the site of the demolished Dunes hotel and casino. Inspired by the Lake Como town of Bellagio in Italy, Bellagio is famed for its elegance. One of its most notable features is an 8-acre (3.2 ha) lake between the building and the Strip, which houses the Fountains of Bellagio, a large dancing water fountain synchronized to music.
Inside Bellagio, Dale Chihuly's Fiori di Como, composed of over 2,000 hand-blown glass flowers, covers 2,000 sq ft (190 m2) of the lobby ceiling. Bellagio is home to Cirque du Soleil's aquatic production "O". The main (original) tower of Bellagio, with 3,015 rooms, has 36 floors and a height of 508 ft (151 m). The Spa Tower, which opened on December 23, 2004, and stands to the south of the main tower, has 33 floors, a height of 392 ft (119 m) and contains 935 rooms.
History
Bellagio was conceived by Steve Wynn, and Atlandia Design (a Mirage Resorts, Inc. wholly owned subsidiary) managed the design, construction and furnishing of the facility, following the purchase and demolition of the legendary Dunes hotel and casino in October 27, 1993 after the grand opening of Luxor Las Vegas. Bellagio's design architect was DeRuyter Butler, and Peter Smith was the project executive. Construction on the Bellagio began in May 1996. Bellagio had an original design and construction cost of US$1.6 billion.
The interior design on the Bellagio was designed by Architectural Digest 100 four-time winner Roger Thomas. Roger Thomas is the executive vice president of design for Wynn Design & Development, and principal of the Roger Thomas Collection.
Bellagio opened on October 15, 1998, just before 11 pm, in a ceremony that was reported to cost US$88 million. The VIPs invited to the grand opening were expected to donate to The Foundation Fighting Blindness US$1,000 a person or US$3,500 a couple, which entitled them to an overnight stay at Bellagio's suite rooms. Opening night's entertainment began with Steve Wynn giving a 40-minute welcome speech followed by the opening of the Cirque du Soleil production O. Performing in Bellagio lounges that night were New York cabaret and recording artist Michael Feinstein, George Bugatti, and John Pizarrelli. When it opened, it was the most expensive hotel ever built.
Recent years (2000–present)
In 2000 it became an MGM Mirage property when Mirage Resorts merged with MGM Grand Inc. to create MGM Mirage. In 2010, the company was renamed MGM Resorts International in a move to go worldwide with its brands.
Bellagio employs approximately 8,000 people. In the Autumn of 2006, the casino floor was remodeled and new uniforms were issued, changing the original color scheme to a more subdued beige theme.
On December 15, 2010, a helmet-wearing gunman robbed the casino of $1.5 million in chips. In August 2011, he was sentenced to a prison term of 9–27 years.
In the early morning hours of March 25, 2017, the Rolex jewelry store was robbed by men in pig masks.
On April 13, 2017, part of the roof caught fire.
Gaming
Poker room
Many professional poker players prefer to play at the Bellagio poker room, calling it their home base (or more commonly "The Office") due to the high table limits, including the high-stakes Big Game located in "Bobby's Room", named after Bobby Baldwin. The stakes at the Big Game can range up to $4,000/$8,000, and are frequented by such poker pros as Doyle Brunson, Daniel Negreanu, and Jennifer Harman. It is reported that the pots during this game can far exceed $1 million.
Bellagio has also partnered with the World Poker Tour to host several of their tournaments.
Restaurants
here are 14 restaurants inside Bellagio as well as private dining, in-room dining, and poolside dining options:
• Lago by Julian Serrano
• Harvest by Roy Ellamar
• Spago
• Fix
• Yellowtail Japanese Restaurant
• Prime Steakhouse
• Le Cirque
• Picasso
• Michael Mina
• The Buffet
• Jasmine
• Pool Cafe
• Noodles
• Bellagio Patisserie – home of the world's tallest chocolate fountain
• Sadelle's
Attractions
Fountains of Bellagio

The Fountains of Bellagio is a vast, choreographed water feature with performances set to light and music. (See musical fountain.) The performances take place in front of the Bellagio hotel and are visible from numerous vantage points on the Strip, both from the street and neighboring structures. The show takes place every 30 minutes in the afternoons and early evenings, and every 15 minutes from 8 pm to midnight. Two minutes before a water show starts, the nozzles begin to break the water surface and the lights illuminating the hotel tower turn to a purple hue (usually), or red-white-and-blue for certain music. Shows may be cancelled without warning because of high wind, although shows usually run with less power in face of wind. A single show may be skipped to avoid interference with a planned event. Additional shows can occur for special occasions including weddings. The fountain display is choreographed to various pieces of music, including "The Star Spangled Banner" by Whitney Houston as the first show of the day, "Time To Say Goodbye" by Andrea Bocelli, "God Bless the USA" by Lee Greenwood, "Your Song" by Elton John, "Viva Las Vegas" by Elvis Presley, "Luck Be a Lady" by Frank Sinatra, "My Heart Will Go On" by Céline Dion, A 3 song medley by Tiesto and "The Sound of Silence" by Disturbed.
The fountains are set in a 8-acre (3.2 ha) manmade lake. Contrary to urban myth, the lake is not filled with treated greywater from the hotel. The lake is actually serviced by a freshwater well that was drilled decades prior to irrigate a golf course that previously existed on the site. The fountains actually use less water than irrigating the golf course did. They incorporate a network of pipes with more than 1,200 nozzles that make it possible to stage fountain displays coordinated with more than 4,500 lights. It is estimated that the fountains cost $40 million to build. The fountains were created by WET, a design firm specializing in inventive fountains and architectural water features.
Four types of nozzles are used for the various effects:
• 208 Oarsmen – jets with a full range of spherical motion
• 798 Shooters – shoot water upwards
• 192 Super Shooters – send a water blast as high as 240 ft (73 m) in the air.
• 16 Extreme Shooters – send a water blast as high as 460 ft (140 m) (added in 2005)
This fountain was the largest fountain in the world when it first opened but then surpassed by Dubai Bay fountain and Okada Manila in 2010 and 2017 respectively.
Awards
Bellagio has won the AAA Five Diamond Award 15 years in a row, from 2000 to 2015; it was the first Strip hotel to receive the award ten or more times in a row. Two of its restaurants, Picasso and Le Cirque, have also received the Five Diamond award. The hotel is a member of The Leading Hotels of the World. In addition, Picasso has received two Michelin stars. Le Cirque and Michael Mina have each received one Michelin star. The resort is recognized on the Condé Nast Traveller Gold List as one of the "Top Hotels in the World".
No tags for this post.