Mandalay Bay Resort and Casino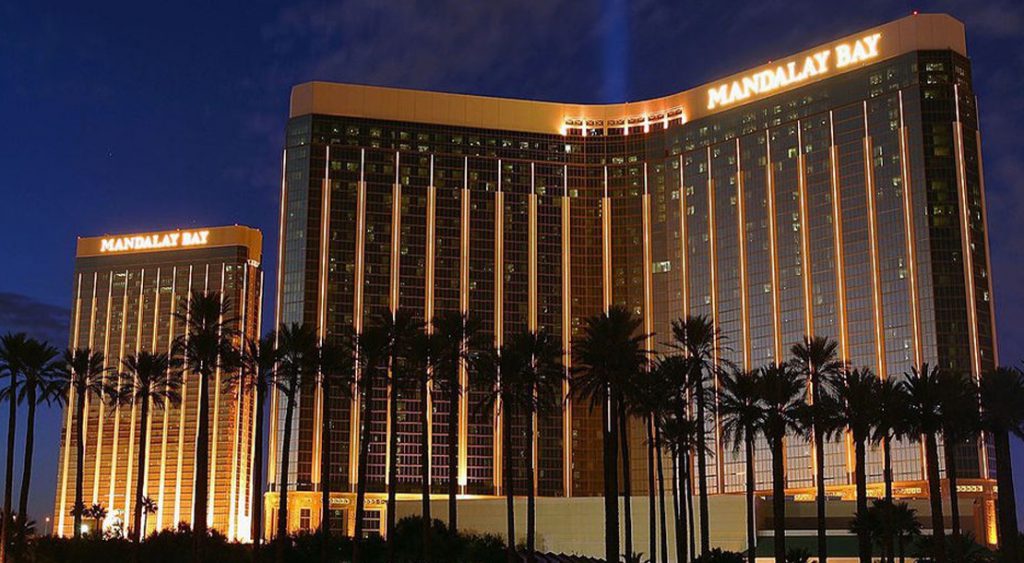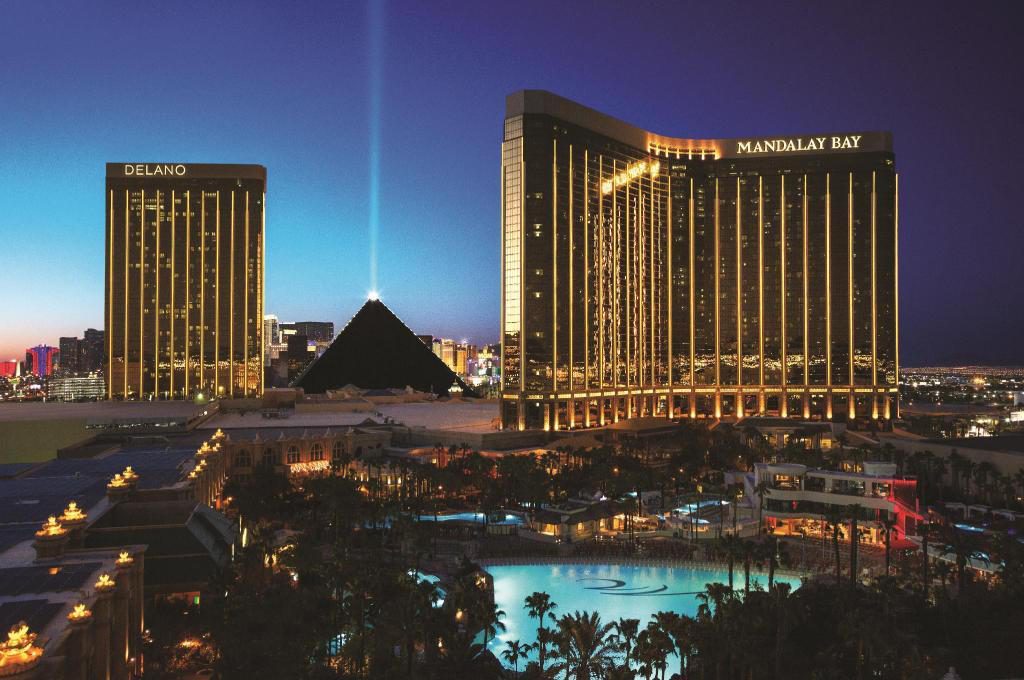 Mandalay Bay
Mandalay Bay is a 43-story luxury resort and casino on the Las Vegas Strip in Paradise, Nevada. It is owned and operated by MGM Resorts International. One of the property's towers operates as the Delano; the Four Seasons Hotel is independently operated within the Mandalay Bay tower, occupying five floors (35–39).
Mandalay Bay has 3,209 hotel rooms, 24 elevators and a casino of 135,000 square feet (12,500 m2). Adjacent to the hotel is the 2,000,000 square feet (190,000 m2) Mandalay Bay Convention Center and the 12,000-seat Mandalay Bay Events Center. The Mandalay Bay Tram connects the resort to its sister properties, Excalibur and Luxor, all three of which were constructed by Circus Circus Enterprises before its sale to MGM.
History
In 1995, Circus Circus Enterprises bought the Hacienda for $80 million and an adjacent 74-acre (30 ha) site for $73 million. They closed the Hacienda on December 1, 1996, and razed it a month later on New Year's Eve. Plans for the tropical-themed "Project Paradise" were revealed the same day, with an estimated budget of $800 million to $1 billion. In February 1998 the project was renamed Mandalay Bay to evoke the exotic tropical romanticism of the poem "Mandalay."
Problems arose during construction because of excessive and uneven settling of the soil beneath the building; the core of the building sank by 17 inches (430 mm), while one of the wings had settled by only 2 inches (51 mm). Rumors about the severity of the issues depressed Circus Circus's stock price. The problem was solved by installing 536 micropiles (200-foot-long metal pipes filled with grout, each capped with a hydraulic jack) below the building, at an estimated cost of $8 million to $10 million.
The resort opened on March 2, 1999, with grand opening festivities that included the Blues Brothers (Dan Aykroyd, James Belushi, and John Goodman) leading a procession of 200 motorcycles to Mandalay Bay's front doors, and a concert by Bob Dylan at the House of Blues.
In June 1999, Circus Circus changed its name to Mandalay Resort Group.
Construction of a major convention center at Mandalay Bay had begun in June 2001, with its opening originally set for mid-2002. After a delay in the wake of the September 11, 2001 attacks, the Mandalay Bay Convention Center opened in January 2003. With 1.5 million square feet (140,000 m2) of space, it was the fifth largest convention center in the nation.
On May 23, 2002, the Mandalay Resort Group announced a second 1,122-room hotel tower, with a cost of at least $200 million. Construction began on the project in September 2002. The name of the tower, THEhotel at Mandalay Bay, was revealed in October 2003. The tower opened on December 17, 2003.
In February 2005, Mandalay Resort Group was sold to MGM Mirage (later MGM Resorts International), which currently owns the resort. The acquisition was finalized on April 25, 2005.
Hotels
Penthouse suites
The gold coloring of the hotel is a result of gold leaf used on the windows. Levels 40-42 (numbered as floors 60–62) are designed as penthouse suites, with a penthouse lounge on level 62 for guests staying in the penthouses. Level 43 (numbered as 64) is the Foundation Room, a restaurant and bar.
Four Seasons Hotel
Five floors (floors 35–39) of the main hotel building are occupied by the five-star and AAA Five-Diamond Four Seasons Hotel Las Vegas.
Delano Las Vegas (adjacent building)
Main article: Delano Las Vegas
The resort's second tower, with 45 stories and 1,117 suites, previously operated as THEhotel at Mandalay Bay, now operates as Delano Las Vegas. Each suite is at least 750 square feet (70 m2)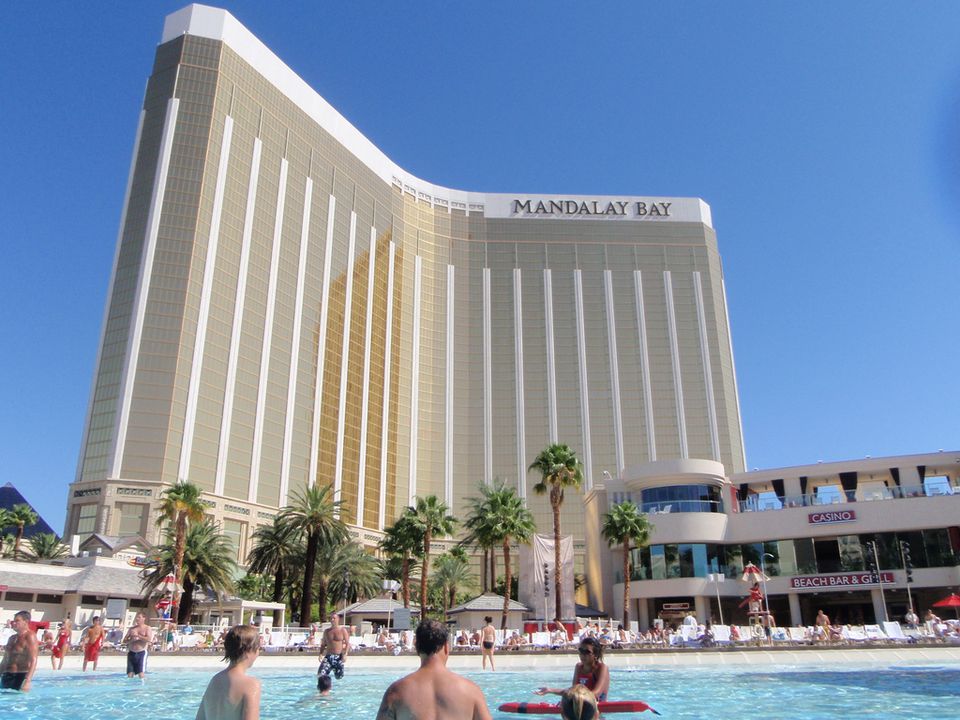 Attractions
Shows
A production of the classic Broadway musical Chicago debuted at Mandalay Bay's 1999 grand opening and ran for one year. Storm, an original production show featuring Latin music, ran from April 2001 to July 2002. Mamma Mia! was a long-running stage production at the resort from 2003 to 2009. The show was replaced with Disney's The Lion King, which opened on May 15, 2009. Its run ended in 2011 to make way for Michael Jackson: One, by Cirque du Soleil, which opened May 2013.
Another popular attraction is the House of Blues, a venue for live music and a restaurant, with a capacity of approximately 1,800. On the top floor of the hotel is the House of Blues Foundation Room, featuring a dining room, private dining rooms, and a balcony looking down the Las Vegas Strip.
Mandalay Beach
Mandalay Beach is an 11-acre (4.5 ha) pool area with three heated pools, a wave pool with connecting pool for small children, and a lazy river that features a small waterfall. The wave machine was designed and manufactured by Scottish Company Murphys Waves Ltd and features 1.6 million gallons of water and waves in 45 to 90 second intervals with heights ranging anywhere from two to four feet. The wave machine can actually produce surfing waves up to 10ft high but these are only ever used during special events. Consequently, it has a strict 48″ height requirement. The European-style pool, called Moorea, features its own private bar as well as the allowance of female guests to bathe topless. As a result, Moorea is separated from the rest of the pool by smoked glass windows and an over-21 requirement. There are also two restaurants at the Beach. The pool area won the Las Vegas Review Journal's Reader's "Best Pool of Las Vegas" award for seven years in a row. One pool remains open throughout the winter months.
In keeping with the resort's tropical theme, it features a saltwater aquarium, the Shark Reef Aquarium, which contains the third largest tank in North America. Shark Reef Aquarium contains numerous other exhibits, including two tunnel-shaped, walk-through aquariums.
Mandalay Bay Events Center
Main article: Mandalay Bay Events Center
The Mandalay Bay Events Center, a 12,000-seat arena, hosts major events including concerts, boxing matches, and Ultimate Fighting Championship events. It has played host to the Latin Grammy Awards several times, and the Miss Universe pageant.
Mandalay Bay Convention Center
Main article: Mandalay Bay Convention Center
This 1,000,000-square-foot (93,000 m2) facility is one of the largest privately owned convention centers in the world. It has several ballrooms ranging in size up to 100,000 square feet (9,300 m2), and can support up to 75 breakout sessions.
The Shoppes at Mandalay Place
The Shoppes at Mandalay Place is a 310-foot (94 m)- long retail sky bridge on the north side of the property that connects to the Luxor.
No tags for this post.