Sheldon G.Adelson
An American business magnate, investor, philanthropist, and political donor.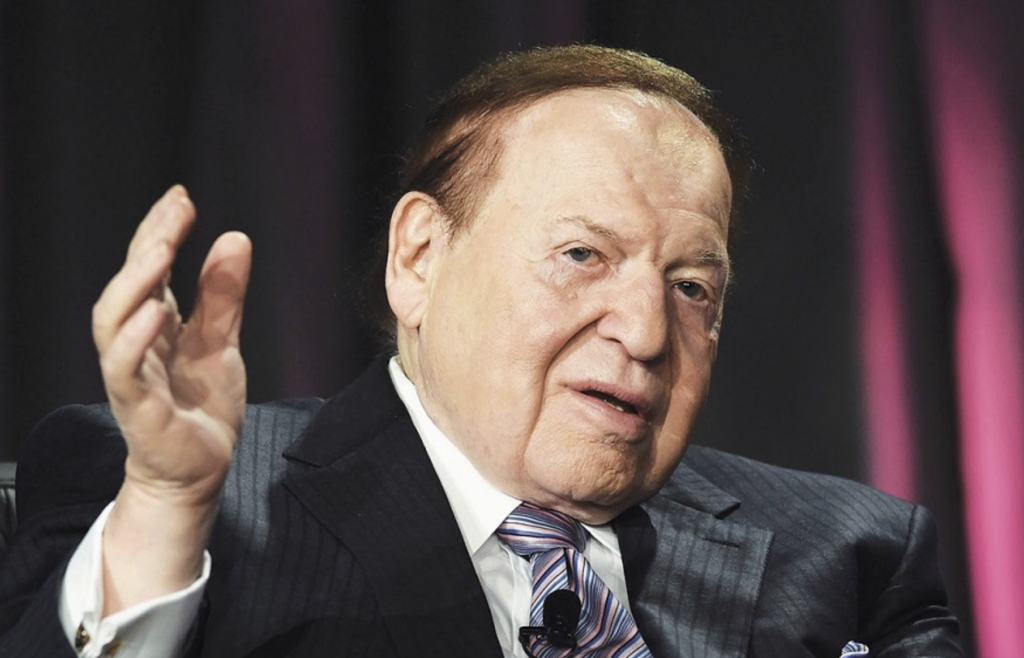 Sheldon Gary Adelson ( born August 4, 1933) is an American business magnate, investor, philanthropist, and political donor. He is the founder, chairman and chief executive officer of Las Vegas Sands Corporation, which owns the Marina Bay Sands in Singapore, and is the parent company of Venetian Macao Limited, which operates The Venetian Resort Hotel Casino and the Sands Expo and Convention Center. He owns the Israeli daily newspaper Israel Hayom and the American daily newspaper Las Vegas Review-Journal. Adelson, a philanthropist and donor to a variety of causes, created the Adelson Foundation in 2007 at the behest of his wife, Miriam. He is a member of the Republican Party, and made the largest single donation to any U.S. presidential inauguration when he gave the Trump inaugural committee US$5 million.
As of October 2018, Adelson was listed by Forbes as having a fortune of US$33.3 billion, making him the 15th-richest person in the world. He is a major contributor to Republican Party candidates. He was the largest donor, of any party, in both the 2012 and 2016 presidential campaigns. He sat out the Republican primary season during the 2016 presidential campaign but on September 23, he announced a $25 million donation to Donald Trump's 2016 presidential campaign, making him the largest donor to the Trump campaign and the largest donor in the presidential election (although this was less than the $100 million donation some had predicted).
Sheldon Gary Adelson was born in 1933, into a low-income family and grew up in the Dorchester neighborhood of Boston, the son of Sarah (née Tonkin) and Arthur Adelson. His father's family was of Ukrainian Jewish and Lithuanian Jewish ancestry. His mother immigrated from England, and one of Sheldon Adelson's grandfathers was a Welsh coal miner. His father drove a taxi, and his mother ran a knitting shop.
An entrepreneur is born with the mentality to take risks, though there are several important characteristics: courage, faith in yourself, and above all, even when you fail, to learn from failure and get up and try again.
–Sheldon Adelson, 2013
He started his business career at the age of 12, when he borrowed $200 from his uncle (or $2,740 in 2017 dollars) and purchased a license to sell newspapers in Boston. At age 16 in 1948, he then borrowed $10,000 (or $102,349 in 2017 dollars) from his uncle to start a candy-vending-machine business. He attended the City College of New York, but did not graduate. He attended trade school in a failed attempt to become a court reporter, then subsequently joined the army.
After being discharged from the army he established a business selling toiletry kits, then started another business named De-Ice-It which sold a chemical spray to help clear frozen windshields. In the 1960s, he started a charter tours business. He soon became a millionaire, although by his 30s he had built and lost his fortune twice. Over the course of his business career, Adelson has created almost 50 of his own businesses, making him a serial entrepreneur.
In 1988, Adelson and his partners purchased the Sands Hotel and Casino in Las Vegas, the former hangout of Frank Sinatra and the Rat Pack. The following year, Adelson and his partners constructed the Sands Expo and Convention Center, then the only privately owned and operated convention center in the U.S.
In 1991, while honeymooning in Venice with his second wife, Miriam, Adelson found the inspiration for a mega-resort hotel. He razed the Sands and spent $1.5 billion to construct The Venetian, a Venice-themed resort hotel and casino. The Venetian opened May 3, 1999. In 2003, The Venetian added the 1,013-suite Venezia tower – giving the hotel 4,049 suites; 18 restaurants and a shopping mall with canals, gondolas and singing gondoliers.
Macau, China
Adelson spearheaded a major project to bring the Sands name to Macau, the Chinese gambling city that had been a Portuguese colony until December 1999. The one-million-square-foot Sands Macao became the People's Republic of China's first Las Vegas-style casino when it opened in May 2004. He recovered his initial $265-million investment in one year and, because he owns
69% of the stock, he increased his wealth when he took the stock public in December 2004. Since the opening of the Sands Macao, Adelson's personal wealth has multiplied more than fourteen times.
In August 2007, Adelson opened the $2.4-billion Venetian Macao Resort Hotel on Cotai and announced that he planned to create a massive, concentrated resort area he called the Cotai Strip, after its Las Vegas counterpart. Adelson said that he planned to open more hotels under brands such as Four Seasons, Sheraton and St. Regis. His Las Vegas Sands planned to invest $12 billion and build 20,000 hotel rooms on the Cotai Strip by 2010.
Adelson's company was reportedly under federal investigation over alleged violations of the Foreign Corrupt Practices Act relating to payments made to a Macau lawyer. In 2015, Sands agreed to pay a $9 million settlement with the Securities and Exchange Commission, which included no admission of wrongdoing.

Marina Bay, Singapore
In May 2006, Adelson's Las Vegas Sands was awarded a hotly contested license to construct a casino resort in Singapore's Marina Bay. The new casino, Marina Bay Sands, opened in 2010 at a rumored cost of $5.5 billion. It includes stores at The Shoppes, convention center for Sands Live concert series, multiple swimming pools, night clubs, and 2,500 luxury hotel rooms.
Internet gambling
Adelson has fought increasingly hard against internet based gambling in recent years. Despite the legalization, and acceptance from many Las Vegas Casino CEOs, Adelson has poured money into candidates who want to overturn recent state legislation that legalizes online gambling. In early 2015 Adelson publicly backed a bill introduced in the U.S. House of Representatives. The legislation, named the Restore America's Wire Act, has been met with mixed reviews by the Republican Party.
In 2001, Adelson was diagnosed with peripheral neuropathy, which restricts his ability to stand and walk. On February 28, 2019, Las Vegas Sands announced that Adelson was receiving treatment for non-Hodgkin's lymphoma. The news was disclosed after a Sands attorney claimed Adelson was too weak to sit for a deposition in a court case involving Richard Suen. Sands spokesman Ron Reese said the side effects of Adelson's medical treatment had "restricted his availability to travel or keep regular office hours" but had not "prevented him from fulfilling his duties as chairman and CEO" of Las Vegas Sands.
No tags for this post.