"Hitting the Heights" D'Heights Resort & Casino is leading the new wave of casino and tourism developments in the Clark Freeport Zone
Covering 309 hectares, D'Heights Resort & Casino is leading the new wave of casino and tourism developments in the Clark Freeport Zone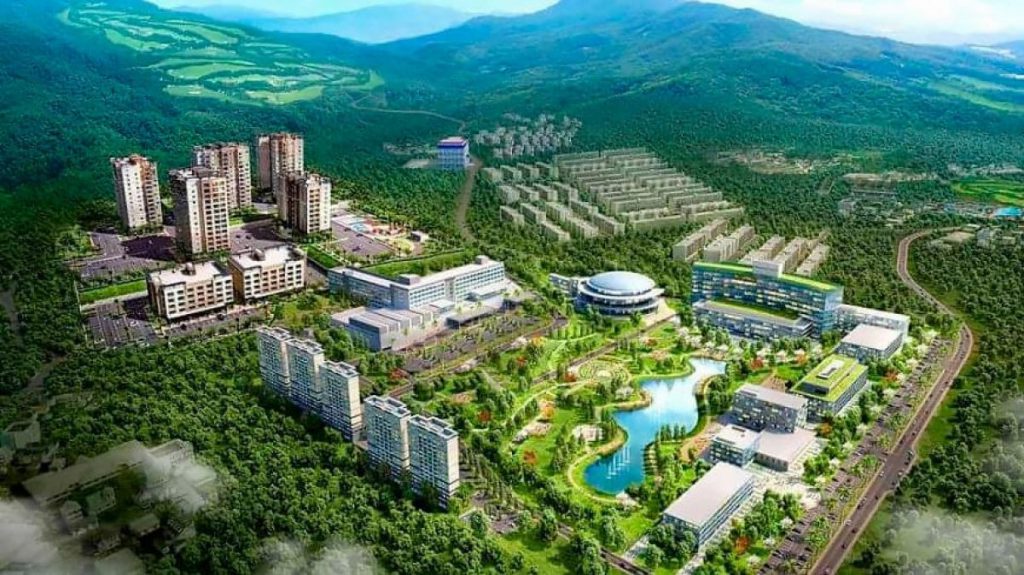 Covering 309 hectares, D'Heights Resort & Casino is leading the new wave of casino and tourism developments in the Clark Freeport Zone.

Edwin D. Mendoza is quick to point out that D'Heights Resort & Casino was given its name for a reason.

"It's actually a play on words," the Director of D'Heights parent, Korean-owned Donggwang Clark Corporation, explains. "It's like 'The Heights.'

"Why the D? Because we are owned by Donggwang. Why heights? Because when you go to our clubhouse it is 1,750 feet above sea level so we would like to make it clear that we have the highest point in Clark while philosophically aiming to reach greater heights.

"So it's Donggwang Heights, which means we're aiming for something really, really big and I think we're on our way to doing that."

Granted its provisional casino license on 12 July 2017 and having held its soft opening almost two years to the day later on 3 July 2019, D'Heights – also known as Sun Valley – is currently the largest of Clark's emerging casino operators with its slice of land just west of Clark International Airport measuring 309 hectares.

The expansive development, set to be fully functional by 2022 at a cost of US$500 million, already boasts two 18-hole golf courses at its Clark Sun Valley Golf & Country Club, a 310-room Hilton Hotel, a Singapore School offering Singaporean education standards for students between Kindergarten and Year 12, five towers of condominium towers at various stages of completion and a casino that promises to be world class once fully operational in the coming months.

It is also home to one the country's two Philippine Offshore Gaming Operators (POGO) hubs: a cluster of eight medium-sized buildings – six blue and white dormitories for residential and two brown and white office buildings – housing around 6,000 Chinese employees.

Longer term, the ambitious D'Heights development will include two more hotels – a Hyatt Regency with 350 rooms and a 3-star boutique hotel inside the main casino building for mass market guests – another seven condominium towers for a total of 12 and at least one theme park described by Mendoza as "something similar" to Hong Kong Disneyland or Singapore's Universal Studios at Resorts World Sentosa.

"We're already in talks with an international operator," he says. "The people we are talking to only need 30 hectares. That's only one-tenth of our land, so we are in the negotiation stage right now and hopefully when we get that inside our property then not only will we benefit but the entire Clark area will benefit."

In the meantime, the property remains largely understated with the exterior of the main hotel and casino building exuding a sense of basic functionality rather than any great fanfare. Step inside, however, and it's a very different story.

Covering four floors, the casino at D'Heights is as modern and inviting as anything seen on the finest Entertainment City gaming floors – a fact that is in no way coincidental.

"We are trying to position ourselves alongside those Entertainment City guys because we are the biggest in Clark, we are the biggest licensee, we have the biggest casino right now and we will be developing bigger casinos in the future – probably as big as those in Entertainment City," Mendoza explains.

Although not there just yet, D'Heights is still substantial with 566 slot machines and 104 gaming tables in total across its four gaming areas.

Already close to full operation is the main gaming floor, featuring a healthy selection of the latest Aristocrat and Scientific Games machines plus a sizable new poker room, and a premium mass space on the nearby mezzanine level. Downstairs, in what D'Heights refers to as Lower Ground, is VIP gaming with private car access just outside the large, main VIP gaming floor behind which hide a dozen private gaming rooms.

The third floor, due to open at the start of 2020, will be the casino's new junket area whose tenants, Mendoza promises, will include one of Asia's biggest junket operators. With 26 tables and five private gaming rooms, the junket floor will also allow for proxy betting.

Once fully ramped, management expects VIP gaming via both direct and junket to comprise at least 30% of GGR, largely fed by customers already in the database of its majority owner, Donguan Construction Ltd, which operates five leisure and lifestyle resorts (with golf courses) in Korea and two in Japan.
[Editor:Diana Chin]
Illustrate:(picture/GamblersNews)
Related reading: