Jorge Masvidal Favored to Win BMF Belt vs. Nate Diaz at UFC 244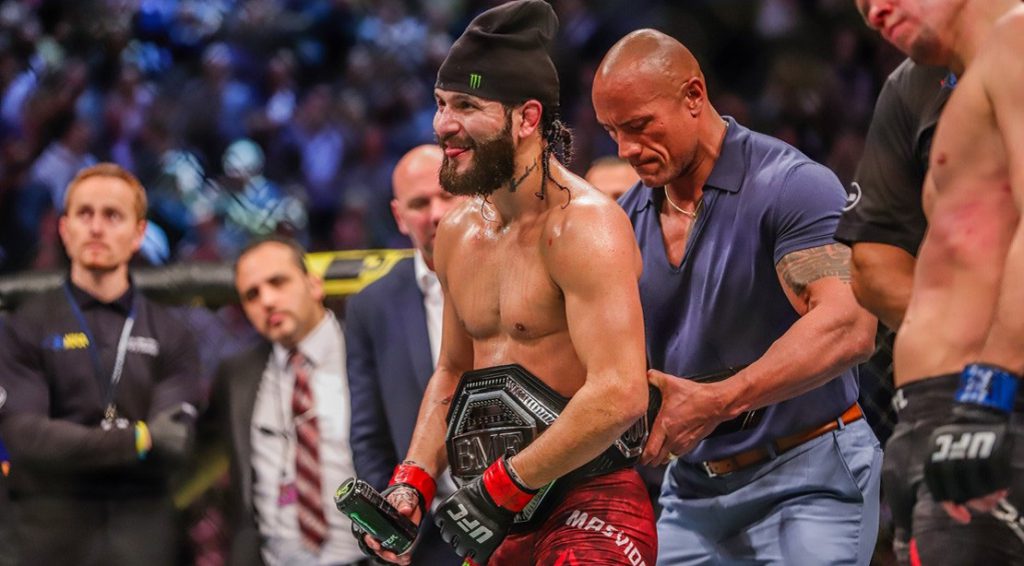 Welterweights Jorge Masvidal and Nate Diaz will square off for the newly created BMF belt at Madison Square Garden in New York on Saturday night, with DraftKings Sportsbook installing Masvidal as a -159 favorite in the main event at UFC 244.

The fight may not be for a "real" title, but neither man can be entirely counted out of the actual welterweight championship picture going forward.
Diaz Test Results Made Masvidal Anxious
For the 34-year-old Diaz (20-11), a title run may not be on his mind, however. He has been very selective about taking fights in the later part of his career, staying out of the Octagon for three years after a majority decision loss to Conor McGregor, before coming back to fight – and beat – Anthony Pettis in August. According to Diaz, fans shouldn't expect that to change going forward.
I'll take forever off, or I'll get back to it if anybody comes correct," Diaz told reporters in a media scrum. "The only reason we've had problems in the past is because you better treat me like it's supposed to be. I've been in this game forever, doing my thing, regardless of outcome. I'm coming back my next fight stronger, better."
Saturday's fight was nearly called off after Diaz tested positive for elevated levels of a banned substance known as LGD-4033, though he was cleared of any wrongdoing, as the amounts were extremely low and ultimately linked to tainted supplements. That news was a relief to Masvidal (34-13), who badly wanted the fight.
"A little bit of anxiety came – not anxiety in the sense that I thought Nate was a cheater, because I never thought he was a cheater," Masvidal told MMAFighting.com. "Just being certain they might pull my fight because of some lab screw-up."
Sunday's fight will have plenty of pomp and circumstance, with Dwayne "The Rock" Johnson even planning to award the ceremonial belt to the winner. But for Masvidal, a victory could also put him in line for a shot at the actual welterweight title, currently held by Kamaru Usman.
Gastelum Takes on Till in UFC 244 Co-Main Event
Meanwhile, the UFC 244 co-main event between middleweights Kelvin Gastelum (15-4) and Darren Till (17-2-1) was also nearly called off for its own bizarre reason. Because of issues with the approval of his travel visa, the English Till didn't actually get into New York until Thursday, which appeared to threaten the status of the fight – especially with Gastelum unwilling to take on a backup opponent.
If something happens – this is the guy that we've been preparing to fight – I feel like for me to fight Jared Cannonier in the backup is just not fair to me," Gastelum told reporters on Wednesday. "Of course, I will fight anybody, but give me time to prepare for that person."
That still leaves the question of whether Till will be able to make weight on short notice with all the travel issues, though that should be easy for the Englishman, who previously fought at welterweight. Gastelum comes into the fight as a +250 favorite over Till (+200).
No tags for this post.