How to invest like Cathie Wood? Watch closely to stocks ARK ETFs Own
ARK's huge gain in 2020 resulted from big stock success stories in cutting-edge tech areas including blockchain and online gaming platform.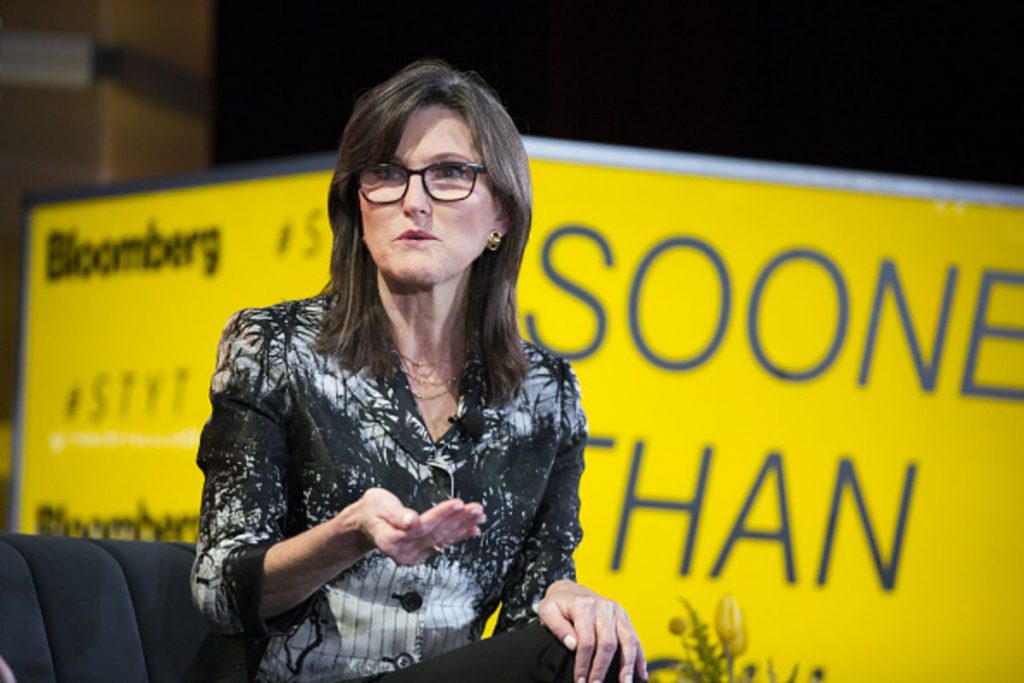 Cathie Wood's ARK Invest ETFs are some of the hottest funds after 2020's huge stock market gains. Six ARK Invest stocks to buy and watch are Coinbase, DraftKings, Sea Limited, Square, Teladoc Health and Tesla.

ARK ETFs focus on Disruptive Innovation

The ARK Invest investment company's flagship fund is ARK Innovation ETF. The ARKK ETF focuses on companies that exhibit "disruptive innovation," a technologically enabled new product or service that potentially changes the way the world works.

The ARK Innovation ETF surged more than 152% last year, handily beating the Nasdaq's hefty 43.6% return.

Other ARK ETFs include Autonomous Technology & Robotics, Next Generation Internet, Genomic Revolution, Fintech Innovation and the recently debuted Space Exploration and Innovation.

The ARKK fund's huge gain in 2020 resulted from big stock success stories in cutting-edge tech areas: DNA sequencing, robotics, artificial intelligence, energy storage and blockchain technology.

"Disruptive innovation is often not priced correctly by traditional investment strategies because people may not understand how big the ultimate opportunities are going to be. They aren't sizing the opportunity and they aren't analyzing the disruption," Wood commented on the company's website.


ARK Invest tickers to watch:

Coinbase

Cryptocurrency exchange Coinbase debuted on April 14, pricing at $250 a share. Coinbase stock closed its first day of trading 328.28, up 31.3%, for a valuation of $87.3 billion. Investors should wait for an IPO base to form before jumping into the hot IPO stock.

The new stake in Coinbase represents another one of the Ark Invest stocks that offers more exposure to cryptocurrencies. COIN stock dived nearly 4% Tuesday.

DraftKings

DraftKings is an online betting platform that allows users to play daily fantasy games and win cash prizes. The company is poised to take advantage of the expanding legalization of digital sports betting across the U.S.

DraftKings stock is below its 50-day moving average. It could form a base once the stock can recover from its downtrend. There is no buy point at this time, but a decisive retake of the 50-day line would be bullish for the stock's prospects.

The sports-betting leader is one of the newest ARK Invest stocks. On March 8, ARK Invest disclosed a new position of 748,000 shares for the ARKK ETF.

Sea Limited

Sea says it has both the largest digital entertainment platform and the largest e-commerce operation in the Southeast Asia region, comprised of Indonesia, Taiwan, Vietnam, Thailand, the Philippines, Malaysia and Singapore. Its market reach extends to Latin America.

Sea Limited stock is shaping a cup with handle, which offers a 258.70 buy point. Shares briefly topped the buy point Monday. SE stock lost 5.4% Tuesday.
Editing by Rachel Hu